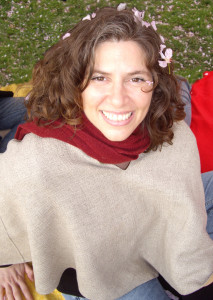 Stephanie Sohns was first introduced to Juliu Horvaths work in 2006. Living in New York City and enrolled in a 3 year full-time Alexander Technique Program, she attended her first Gyrokinesis class in hopes to alleviate some of the stresses of city life accompanied with full-time work and study.
It worked and after a year of taking classes and doing pre-trainings in both Gyrotonic and Gyrokinesis, she completed her Foundation Teacher Trainings. Stephanie has completed 5 Foundation Trainings to date, numerous workshops, updates and privates with Clyde Rae Jolie-Ashe, Juergen Bamberger, Sebastian Plettenberg, Erika Hassan, Hilary Cartwright, Angela Crowley, Uwe Herbstreit, Paul Horvath and Juliu Horvath.
During her last year in New York, she taught 20-25 hours a week in Gyrotonic while completing her 1,600 hour certification in the Alexander Technique. Returning to Colorado in the Fall of 2008, she began working part-time out of Gyrotonic Boulder. In the Fall of 2010, she left for Vermont to pursue a Masters Degree in Education with an emphasis in alternative healing and communication methods. Stephanie also has a BFA in Theatre and Performance.
She is grateful to be back at Gyrotonic Boulder for some much needed spiraling and nurturing. Stephanie has over 15 years of combined teaching experience in English as a Second Language and bodywork. She draws from her opportunities to live and work abroad, travel extensively, teach in a variety of work settings and exposure to a plethora of cultures when working with individuals or groups to bring about joy, clarity of communication and a continued understanding and development of ones own healing capacity and infinite potential.