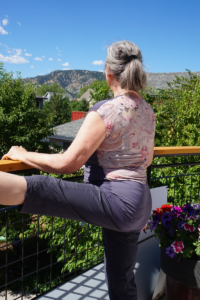 Boulder, Colorado
Sept. 20 – 22, 2019
with Specialized Master Trainer, ClydeRae Jolie-Ashe
Tuition $350. Studio fee $150 payable as deposit to Gyrotonic Bodhi Studio.
Deposit: $150 due payable as deposit by Sept. 6, 2019.
Location: Gyrotonic Bodhi Studio,
Contact and registration: Jen Patterson, Gyrotonic Bodhi Studio,  gyrotonicbodhi.com.
This course may serve as an Update for Trainers licensed in GYROKINESIS® and Trainers licensed in both GYROKINESIS® and GYROTONIC®.
Learn more about this course at http://clyderae.com/2018/06/gyrokinesis-sacred-geometry/.