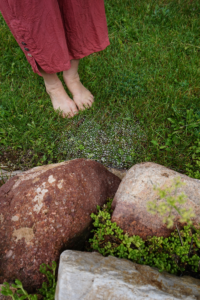 Established in 1998 GYROTONIC® Boulder® was begun by Diane Israel and Lindsey Hansen-Sturm, international tri-athletes, with help from Alice Diamond, dancer, as White Cloud Studio to create a home and training ground for the GYROTONIC® Methodology. From the beginning, GYROTONIC® Boulder has had a deep commitment to furthering the understanding and enhancement of human movement through this unique and powerful system. This commitment extends to those who choose to practice Gyrotonic Methodology as clients as well as to the community of Gyrotonic instructors.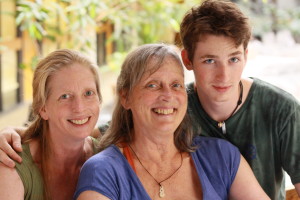 In 2007 Diane and Lindsey "passed the torch" to Clyde Rae Jolie-Ashe, who has continued to expand the offerings of GYROTONIC® Boulder to the general public as well as educational programs serving teachers. Clyde Rae is now a Master Trainer of GYROKINESIS® , GYROTONIC® , and two pieces of Specialized Equipment, the Leg Extension Unit and the Jumping Stretching Board, and so is able to provide a very full palette of trainings for instructors.
Meet the Business Owner: Clyde Rae A.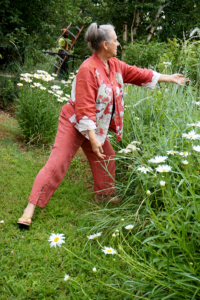 Rippling, pulsing, spiraling, swinging, spinning, flipping, gliding, rolling, bounding, undulating–alive in movement, Clyde Rae is a dancer, a singer, a grandmother, a body worker, and a movement educator.
She teaches the GYROTONIC EXPANSION SYSTEM® in private lessons and small group classes on the GYROTONIC® Pulley Tower and Handle Unit, the Ladder, the Leg Extension Unit, the Archway and the Jumping Stretching Board. Clyde Rae also teaches GYROKINESIS® classes, the GYROTONIC®
Therapeutic Approach, Pre-and Post-Natal GYROTONIC® , and is a GYROTONIC® and GYROKINESIS® Pre-trainer and a GYROKINESIS® Master Trainer.
Her students include athletes and dancers, pregnant women, mothers and children, seniors, people recovering from surgeries, illness, and accidents, including those with mild to moderate brain injury.
Clyde Rae's teaching is innovative, compassionate, and fueled by curiosity about the nature of being. How is our world shaped by how we move?
Our Founder
The GYROTONIC EXPANSION SYSTEM® was created by Romanian-born Hungarian ballet dancer, Juliu Horvath. In the early 1980's he began teaching a new movement system "Yoga for Dancers", and later develop the GYROTONIC® Method, and his world-renowned Gyrotonic equipment. The GYROTONIC® and GYROKINESIS® methods quickly gained an international following, becoming popular in Europe, Asia, and Australia, as well as in the USA. The GYROTONIC EXPANSION SYSTEM® has now grown to encompass over 7800 Trainers in 52 countries. His full bio can be found at Gyrotonic.com.
He continues to create new programming for the GYROTONIC® and GYROKINESIS® methods. He also conducts teacher training courses internationally and continues develop new GYROTONIC® equipment, and refine existing equipment designs. He is always developing a more common sense approach to health and well being, as he puts it, in a "seriously un-serious way".