Master Trainer, Jackson Kellogg will be teaching two JSB Update training courses in July and August 2015…Read an interview with Jackson!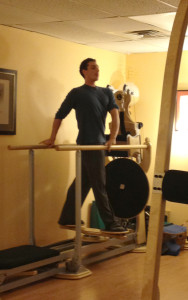 Get ready! Study the Jumping Stretching Board with Master Trainer, Jackson Kellogg from July 30-August 5!
A wonderful tool to incorporate into your personal regime as well as utilize with your clients. Jumping Stretching Board exercise sequences are composed of full body, functional exercises, performed in a variety of body positions- kneeling, standing, lying and sitting.  A diverse range of standing exercises improve flexibility, coordination, and functional strength.
Utilizing your own body weight, gravity and leverage you gain a very different sense of space in the body that allows you to move in area's without your typical feelings of restriction. It demands a deeper sense of strength through relaxation and precision rather then force. A great tool to develop strength in your spine without any compression.
Jumping Stretching Board
with Master Trainer, Jackson Kellogg
July 30-August 5
Pre-requisite:
Certified Level 1 GYROTONIC®
$500  ($350 Tuition + $150 Studio Fee)
Register now to save a space!
Email the studio here
Call 303-444-1228